Types of reinsurance structures offered.
Layered or quota share facultative (D&F) reinsurance, accessed globally, for single-parent captives and risk retention groups (RRGs)
Treaty reinsurance for mutual insurance companies seeking a more innovative solution than is offered under a traditional treaty reinsurance structure
Loss portfolio transfer solutions to laser out specific risks from the captive
Issuing carrier and fronting partnerships
Typical reinsurance structures.
In terms of a general construct of a reinsurance single-parent captive, this diagram outlines the general components. As the construct indicates, a property single-parent captive is owned by an entity and may or may not use a fronting carrier. In turn, the risks originated by the fronting carrier are reinsured by the captive and, in turn, are retroceded to global reinsurance counterparties.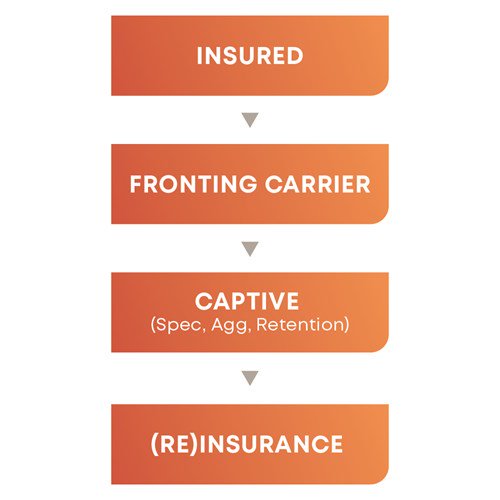 A second structure shows placement for a Fortune 1000 company. Here the syndicated layered solution attaches above business unit self-insured retention ($1 million AOP with two special deductibles for hurricane and a European plant).
Other services provided.
Global catastrophe (CAT) modeling tailored to specific coverage areas and ZIP codes
Legacy liability exit solutions
Embedded risk management and loss protection resources such as fire protection and engineering risk studies, as well as outsourced risk management capabilities for complex risks
Claim administration, reinsurance wordings and related strategies for captives